Table of Contents
Welcome to James Kemp's Wiki
This is a collaborative web platform that allows people to edit1) the web pages to provide additional content for some of the stories I have written and the roleplaying games that I am involved in, whether as a player or GM.
There are several namespaces operating slightly different wiki subjects. These are, in no particular order:
Delta Green

- some roleplaying campaigns about horror and conspiracy. The main one was set in

Berlin

in 1953.
Free games rules

- a collection of free rules for wargames and other sorts of face to face games that I have designed or run.
Comments and complaints to me at webmaster@full-moon.info please.
James Kemp
Tag Cloud
Recent Additions
The boat captain of the first boat on Straven. He's the adoptive father of both Yngvild and Noren.
His current partner is Helga the Red and they live above the main hall on Straven.
Bjorn Johansson is by far the oldest resident of Straven, no-one is quite sure exactly how old he is. What is clear is that he's much older than everyone else. Hence the monniker Old Bjorn.
Some time in the past Bjorn Johansson was a King's Messenger, and then a King's Justice. In his sanctuary in the loft space there are some relics from that life. When the seagull first docks at Straven the Captain calls him The Counter of Battles.
His battle gear is plain black, with white tally marks around the outside of the shield. There are many tally marks on the shield, rumours differ. Some say these are the battles he's been in, others the number of people he's killed, and a few think they're the women that he's loved.
Straven is a tiny settlement on an island about three or four square miles. Only a little of the island is cultivated, most of it is woodland or rough grazing for the sheep that the community keeps for their wool and milk.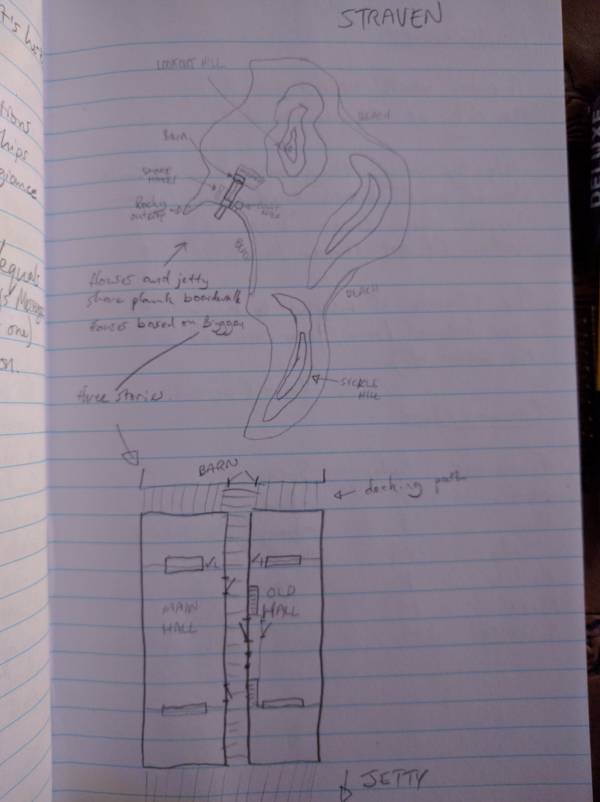 the standard crest of Skyss, a circle of seven circles, gold coins when painted, and crossed axes in the middle with a boat prow underneath. Usually it was rendered on a blue circle with coloured paint. The boat was green and the axes red. This coin had a small hole drilled where the top-most of the seven coins went.
Malfin is known as the Goddess of the Darkness, which to the Skyssians isn't a bad thing. They live in an arctic environment, half their year is spent in the darkness. So they've come to embrace it.
There are eight characters in the patrol. This is a short description of each of them.
1)
but only if they are logged in, registration is temporarily disabled due to excessive spam. Contact the webmaster if you would like to edit these pages explaining your interest.
Use the following URL for manually sending trackbacks:
http://full-moon.info/lib/plugins/linkback/exe/trackback.php/welcome